Welcome to Bolton Villas Family Church!
Whether you are already a part of our church family or if you are just looking, we hope you have a great time with us. We are a family-friendly church based in Bradford in the U.K. that longs to follow Jesus Christ in all aspects of our being.
We want to be a family travelling this road of life together. We are a family of all ages and backgrounds, a community with Kingdom values, hopes and dreams. Wherever you come from, whatever background you may have, YOU are WELCOME at Bolton Villas.
We seek to be 'JESUS PEOPLE' – We want to Talk to Jesus, Walk with Jesus, Share Jesus, Invite others to meet Jesus and Live the Jesus way.
We all make mistakes, but we firmly believe life is better with God's love and guidance. We hope to share that love with each other on our journey as His family together.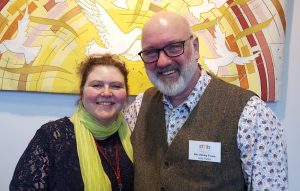 Then Jesus came to them and said, "All authority in heaven and on earth has been given to me. Therefore go and make disciples of all nations, baptising them in the name of the Father and of the Son and of the Holy Spirit, and teaching them to obey everything I have commanded you. And surely I am with you always, to the very end of the age." Matthew 28:18-20 (NIV)
You are very welcome to join us on Sunday mornings from 10.30am, our family service includes activities for creche, children and young people.
God bless.
Rev Ashley and Katie Evans
Pastors
---
Coronavirus – Covid 19
Dear Brothers & Sisters,
It is with a heavy heart that the Elders have made the decision to close our building in light of the current situation. Please be aware that although our doors are closed, our hearts are wide open.
You can find out further information on our plans for the coming weeks via:
We are aware that there are a number of friends in the fellowship struggling with illness, who fall into one of the vulnerable categories and who are already self isolating.
In light of the governments recent advice around Coronavirus, and religious group gatherings, we want to be respectful of government advice and also keep everyone protected as much as possible.
Although we have suspended Sunday morning services until further notice we will be sharing lots of encouragement, Biblical guidance and a chance to interact in conversations. I'll be doing weekly updates and sharing valuable teaching and offering an online communion and weekly Word from the manse on Sundays at 10:30am via our Facebook page.
Whilst we are unable to meet in person for the foreseeable future it is important that we continue to love one another, share the hope of the Gospel with those around us, and encourage each other to serve God faithfully throughout the days in which we find ourselves.
If my people, who are called by my name, will humble themselves and pray and seek my face and turn from their wicked ways, then I will hear from heaven, and I will forgive their sin and will heal their land.

2 Chronicles 7:14 (NIV)
We will be posting resources on our website and through our Facebook page, as well as through email and prayer text, so please keep checking. We are currently looking at different ways that we can stay connected.
We are also looking at ways of supporting our most vulnerable members. Thanks so much to all of you who have already offered practical help, It is appreciated. We are working towards how we can work with Wrose Christians Together as to how we can help meet practical needs.
Please share this information with people who are unable or unlikely to look at the church website/Facebook pages.
Much love and do be assured of our prayers and love.
Stay loved, full of hope and connected.
Pastor Ashley & Katie and the Elders
Bolton Villas Family Church
<><